They are the rural women living in the most arid region – Xihaigu in Ningxia Province which the well-knowned "Mother Reservoir" located. Because of the arid and inconvenience traffic, both industry and agriculture could barely develop. Most of men leaving their home to work in town, left only women to take care of the old and children. The local women are of low status since they have no independent income, and domestic violence is becoming a serious problem. So these womem formed a cooperation named "Flower Embroidery", wanted to do some handicrafts at home to escape poverty. However, it's hard to sell due to the unmatched traditional product and morden society.
Wen Fang is an independent freelance artist living in China. The Ningxia part of the Art Poverty Alleviation that she initiated is through helping those women to make a series of morden art making by hand, which is guided by her when living at that place. The 50% of sales profits will be passed on to the cooperatives as health, education and development funds.
Most works are inspired by local creatures which applied a lot of almost lost old technics. It is a beautiful collision of modern and traditional, urban and rural.
Wreath
This embroidery insole that hidden under the feet of their relatives and lovers contains the Northwest women veiled and delicate feelings. The ones who wearing those insoles mostly working outside. That is why women's love and sad are all in them. I always want to use them to make a work. There are various definitions of garland in both East and West. But I choose the three typical colours to present their multiple meanings. White makes people thinking about wedding, black is funeral, green is hope. I wish they and their loved ones can no longer be separated either alive or death.。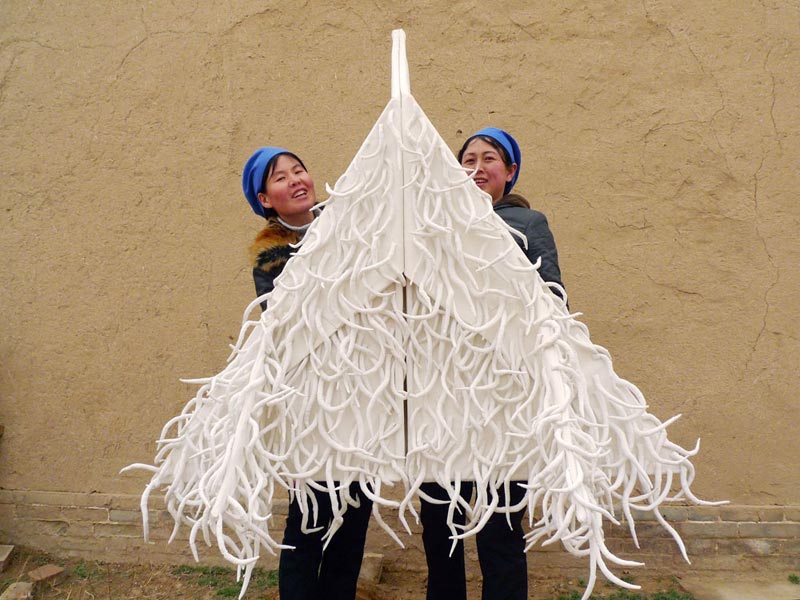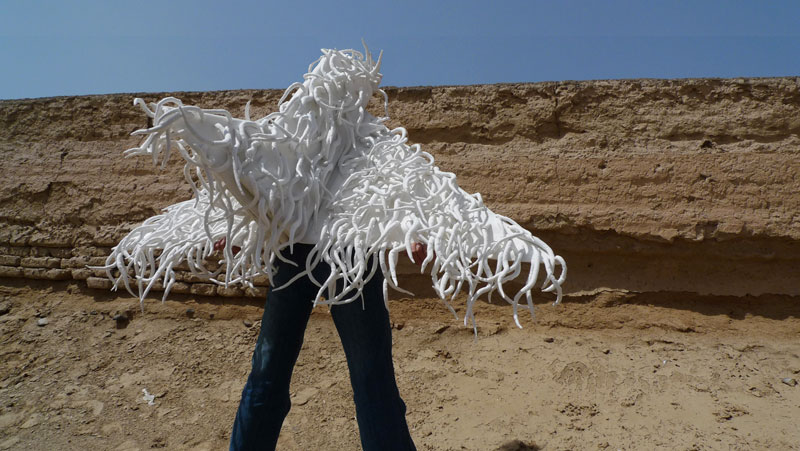 Our Plane
Flying is a universal yearning for freedom's dream. And this half bird, half paper installation is my interpretation of their dreams. In this area that is almost forgotten by the morden life, I feel a strong desire of women who want freedom and independence, although the desire is hidden deeply.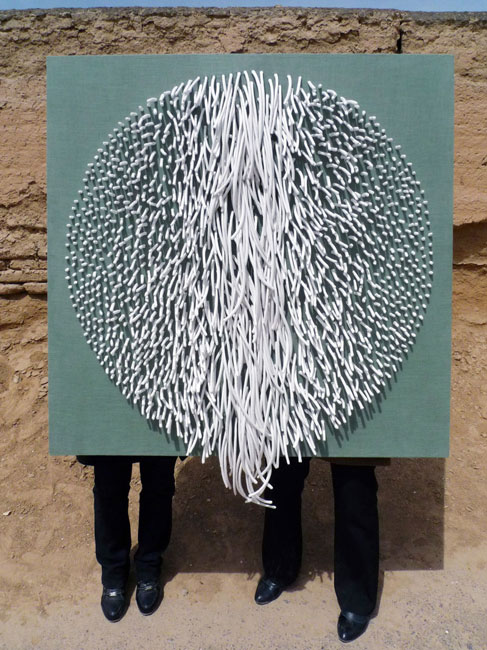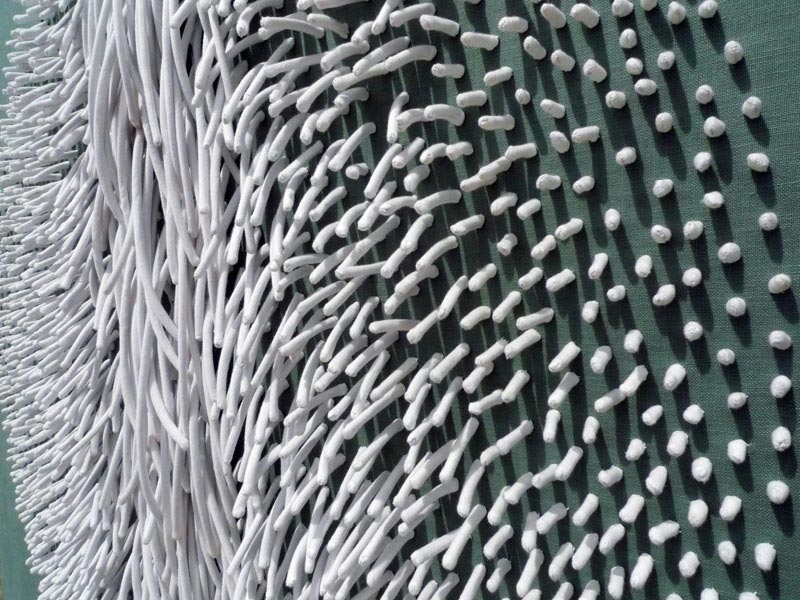 The Wormwood Mother and Son
The Wormwood is a bitter wild vegetable, local people live by eating it during the hard lived period. Its root is white. This work inspired by the bitter taste from this plant. It makes me thinking of those women and children who live in such bitter wormwood-like environment. Locals told me, that is a very strong plant……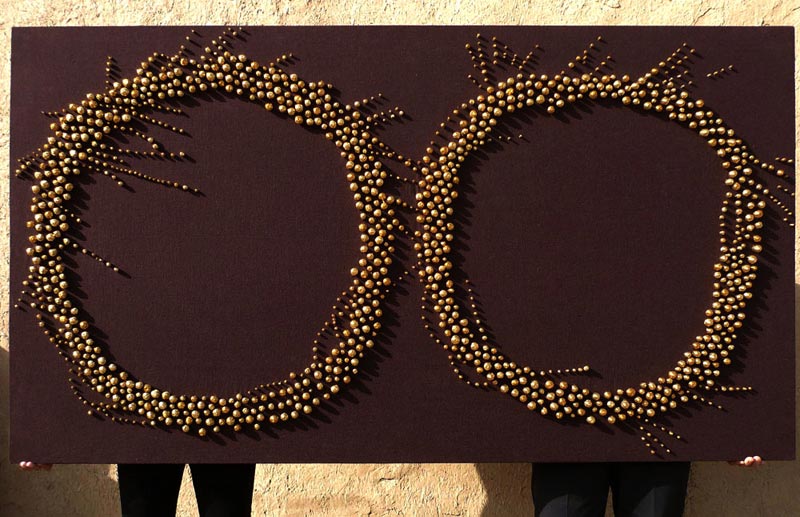 Double Wells
This is a technology that we create together to paint by using cotton buttons. It makes the painting no longer a monotonous flat seat, but an expressive third dimension. Perennial drought makes the local people have a near-worship emotion of water and wells, so this Double Wells have a totem-like significance.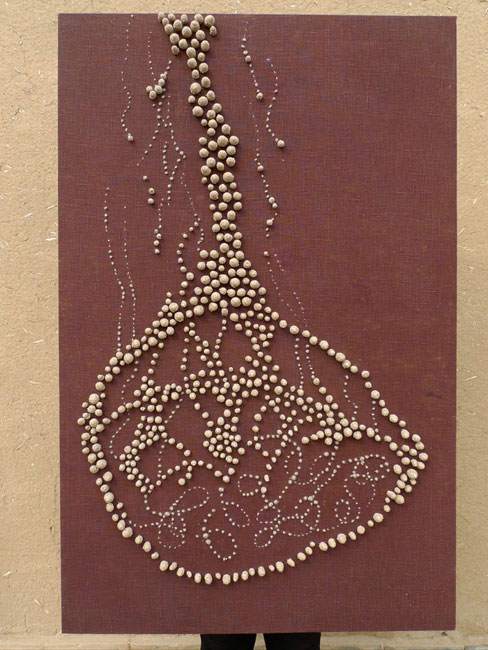 Water Cellar
Most of Chinese have heart about "Water Cellar for Mothers." That is a rain savings cellar for human to drink. Local people rely on this cellar to spend long periods of drought, and to survive. I have drank this water, very muddy and astringent, and there is grass sticks inside. Everytime I think of it, I feel that I am so lucky having clean water to drink.