By 2018, Xizi, Yang Jun, and I had known each other for ten years. They are the Chinese staff members working at The Children of Madaifu (Les Enfants de Madaifu), my favorite NGO. Out of the admiration for their solid effort in helping orphans and caring for the children for more than ten years, I regard them as family members in my heart.
One day, Xizi said to me that "we are currently working on building rural communities in a village named Cuiyang in Tianshui, Gansu Province. It is a hollow village in a beautiful landscape. We hope to bring back the young adults with our work and ease the problem of the left behind elderly and children. You are an artist. Are you interested in paying a visit, having a look and helping us thinking whether it is possible to use art as an intervention?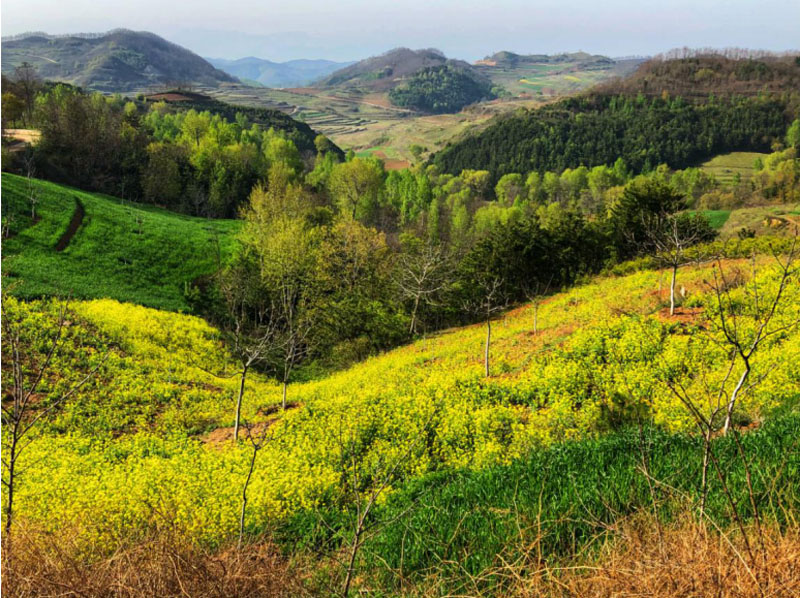 In that year, I visited the village three times by train, once by myself and twice with artist friends. We left the village with a series of mud wall paintings. At that time, Xizi and his project had a very limited budget. We paid for the tickets out of our own pockets. Most of the time, Xizi and Yang Jun refunded us for food, lodging, and painting materials. Although we had to pay for the traveling by ourselves again and again, everybody enjoyed working there because we had so much fun in the village during those days.
It is a quiet place with lushy scenery. Because of the high altitude, its summer is cool and pleasant. For us, who come from Beijing, the place is irresistibly attractive. In addition, Xizi and Yang Jun made a considerate schedule for us, and organized campfires and BBQ parties. We brought with us all sorts of equipment and gadgets. All of these made the visit to Cuiyang Village a perfect vacation for us.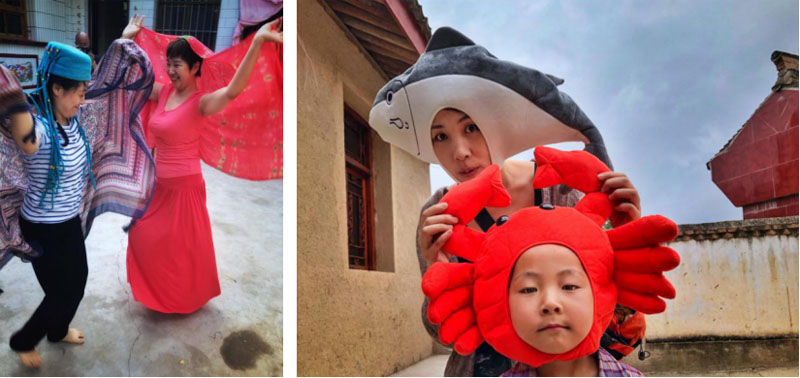 It was after a day's painting as we sat in the yard chatting and playing guitar that we talked about giving the project a name. "Paint a home" was said by Xizi bluntly and received support from everybody. I commented that "the aim of the project is to bring families together. But look at us here. Were it not for this project, despite living in the same city, we would hardly meet with each other. If we consider friends as family members of our choice, this project is also what brings families like ours together." In this way, we have Paint a Home.
In 2018, the friends I brought to paint in the Cuiyang Village are Yu Zhangyue, Lv Yuhui, Wang He, Zhang Shuang, Ni Liang, Zhao Chunyan, Li Yanping, Li Jiexi, Song Yixuan, and Cheng Xingtao. Besides painting, we also made Land Art. With our efforts over a few years, we hope to make the village an artistic cyberstar village so it can attract tourists. The local young adults can stay in the village and run a store or an inn to support their families. The hollow village could be gradually filled. At that time, it seemed like a dream far away from us. While in 2020, after twelve artists finished their work, we feel that we are closer to the dream now. (For the report, see the works done in 2020.)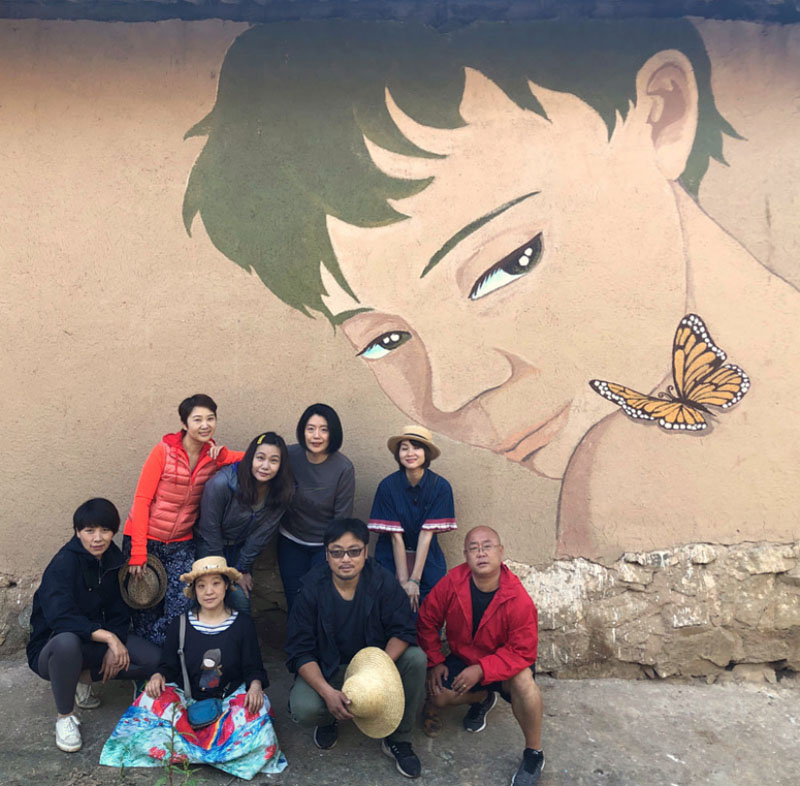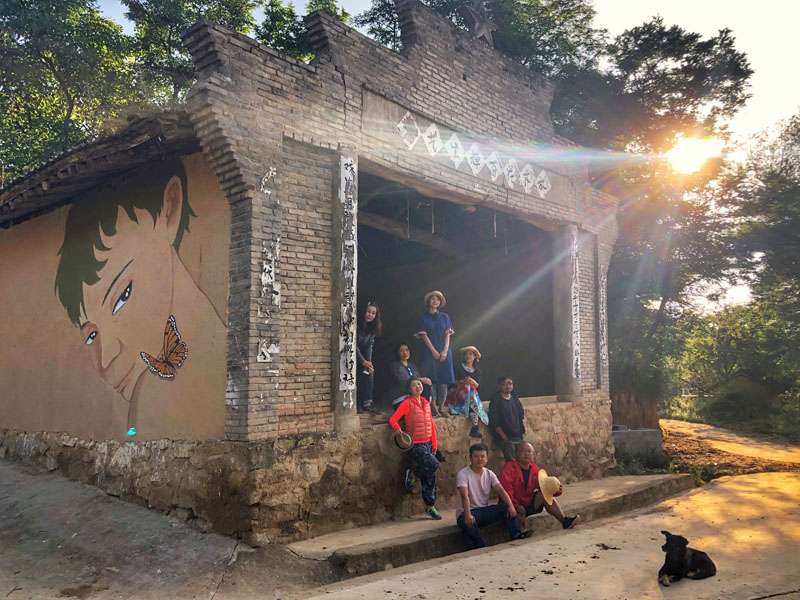 Yu Zhangyue brought her paintings, two portraits of young people. We painted them on the wall together.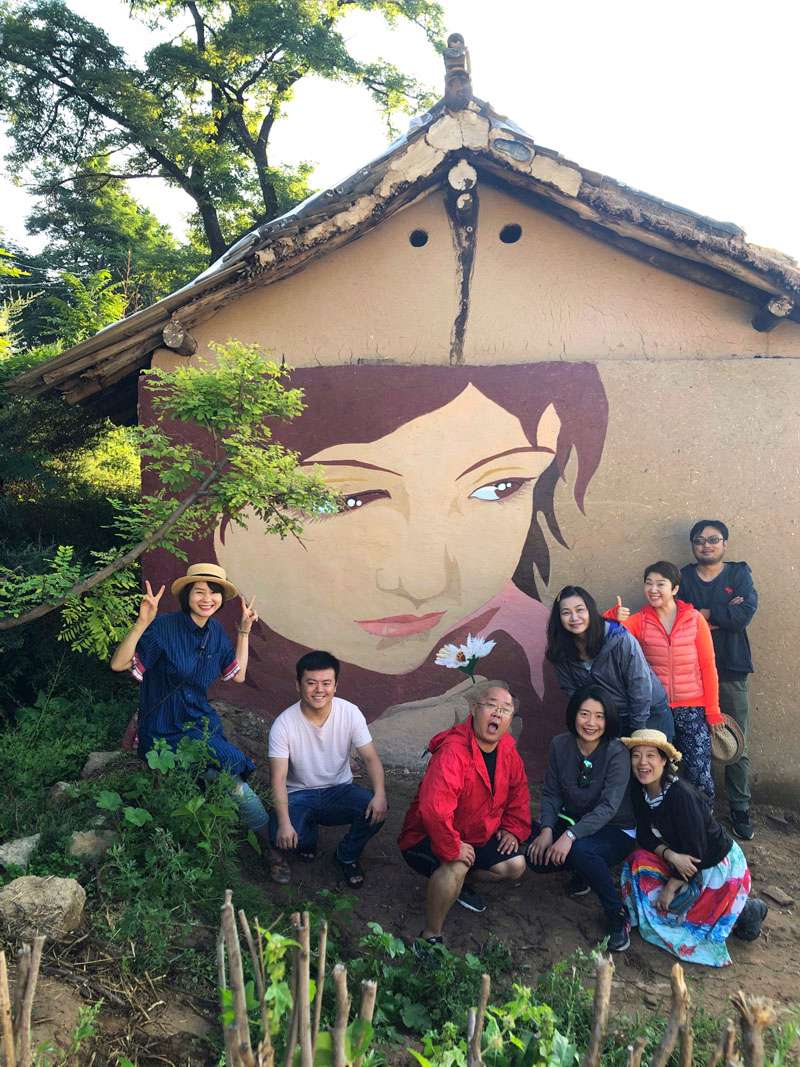 The house, on the wall of which the painting was painted, was torn down in 2019. We felt sad about it. In 2020, when we were in the Cuiyang Village again and finished a series of new paintings, Secretary Lei of Longdong Town, Qingshui County, Gan Su, promised to us: "I will make arrangement with the village to protect your work. Similar things will not happen again!"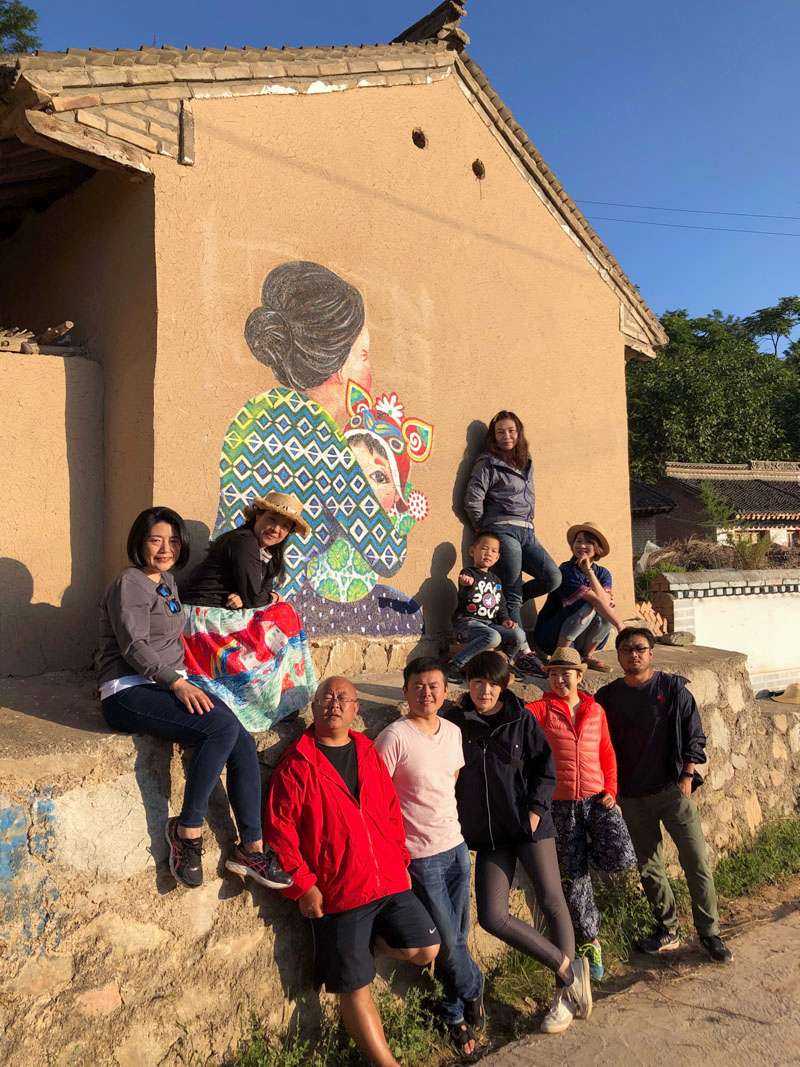 This painting was designed by Lv yuhui for the left behind elderly and children. She and Wang He painted it on the wall near the entrance of the village with outdoor acrylic paint.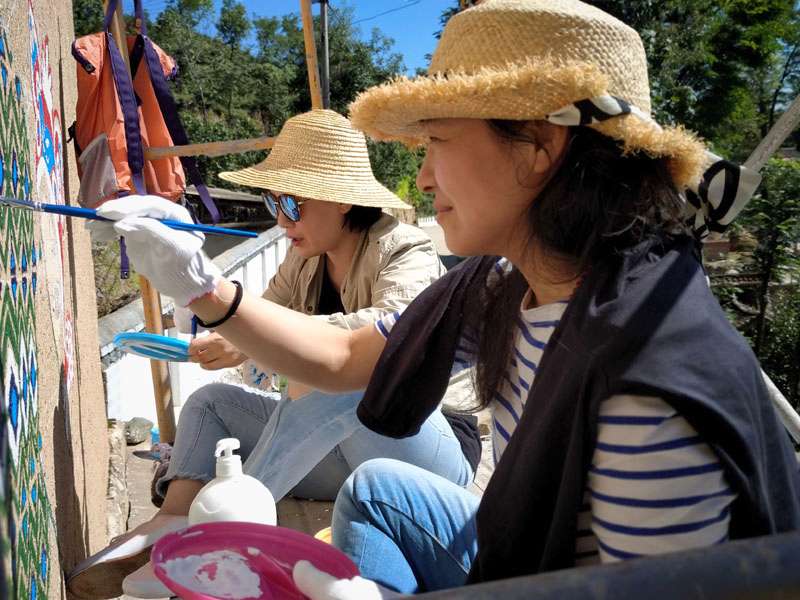 Lv Yuhui and Wang He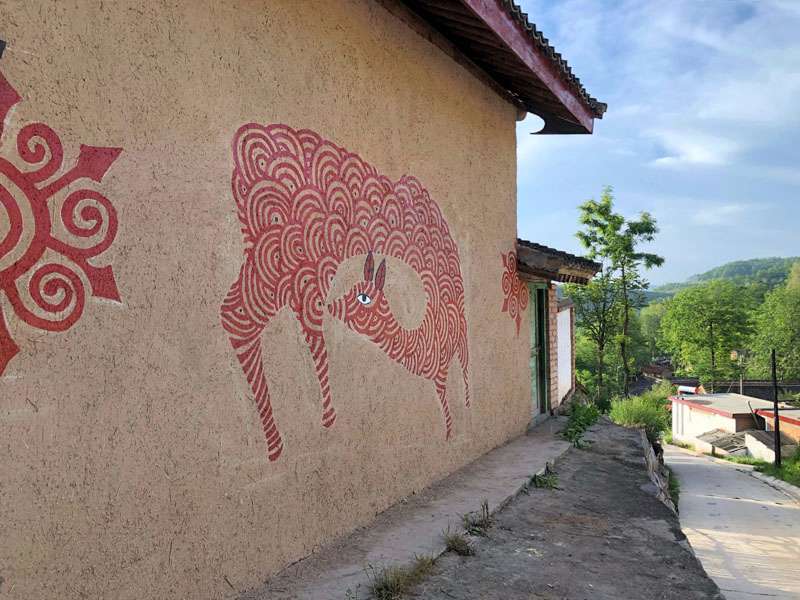 This is the Deer Turning Back painted in the front of the House of the Village's History, in the hope that parents could return home soon.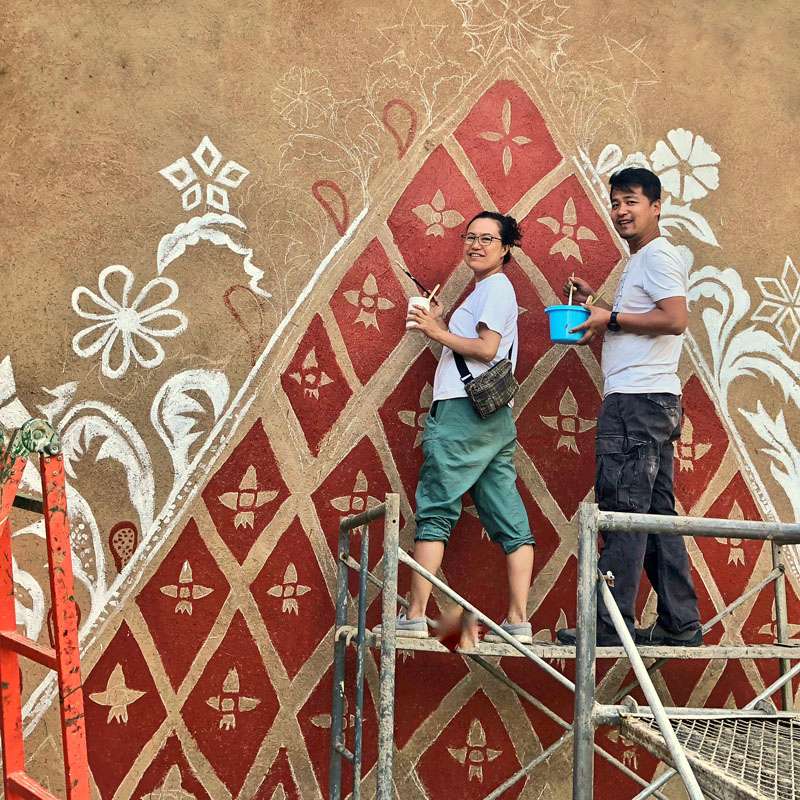 This is Zhang Yan and her Husband Ni Liang. We think this photo looks similar to an old photograph of Lin Huiyin and Liang Sicheng.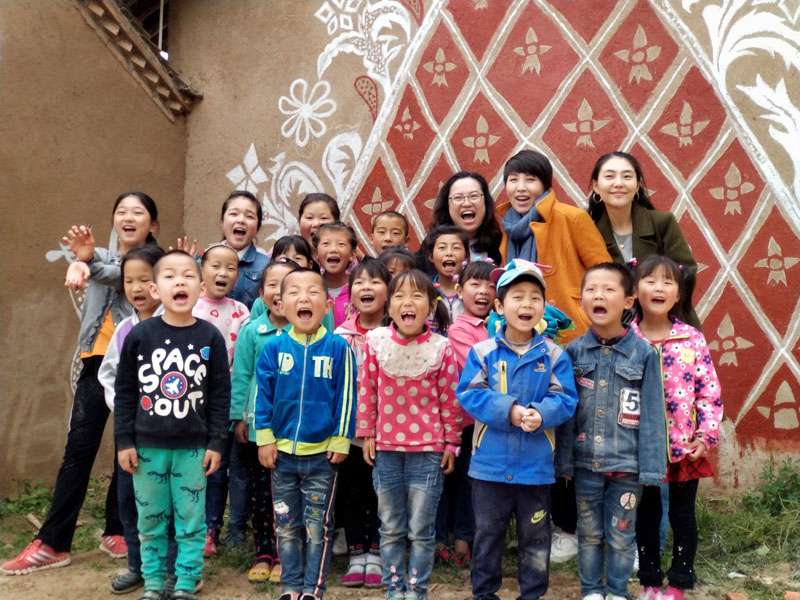 We brought our children to Cuiyang Village. They made many good friends in the village. This year while we were there again, we found that many of kids in the photo were much taller now.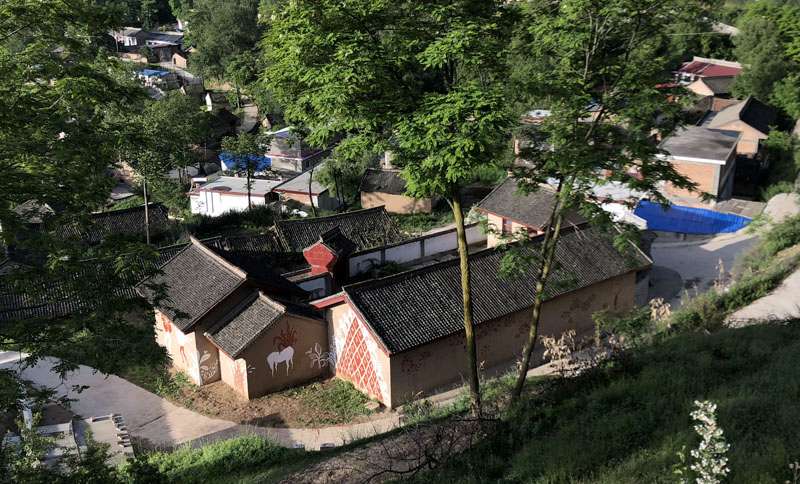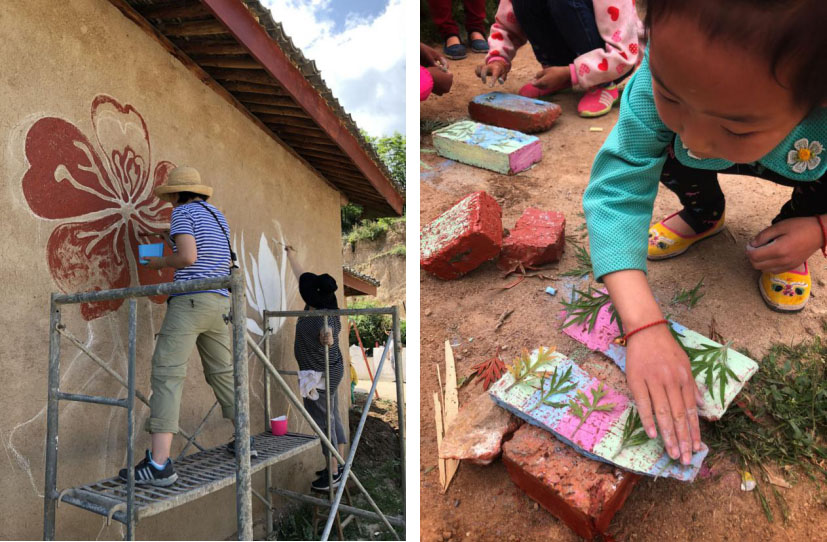 While we were working, the local children started to make their own art.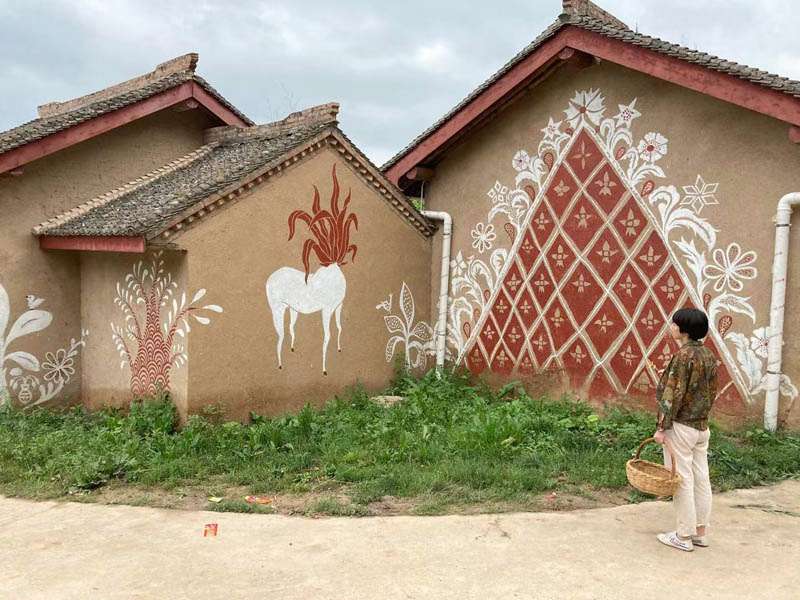 The back wall of the House of the Village's History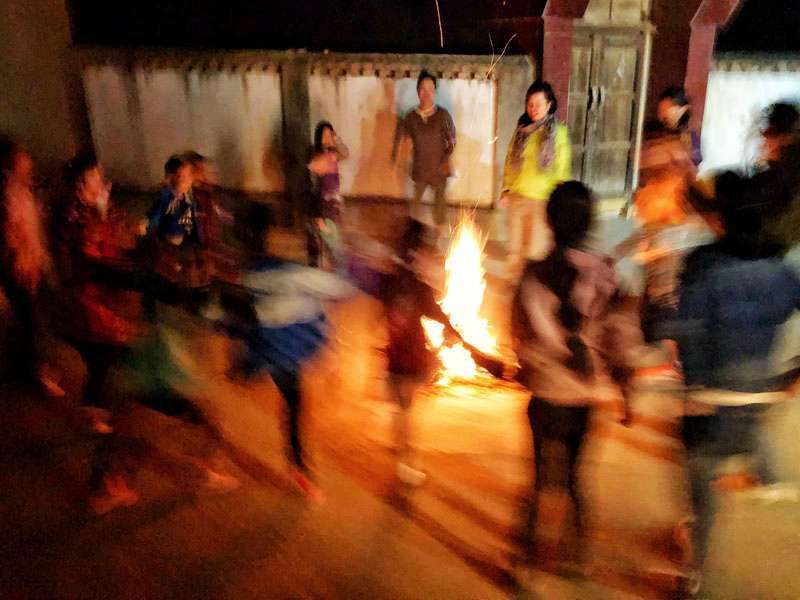 We painted during the day, sang and danced with the children in the yard of the House of the Village's History. This is our little tradition.
We also made some Land Art in the Cuiyang Village: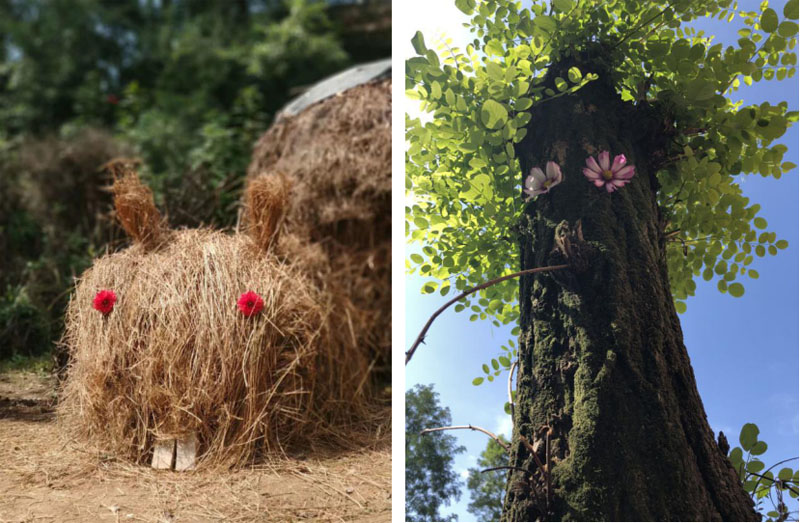 Wang He's work                                      Yu Zhangyue's work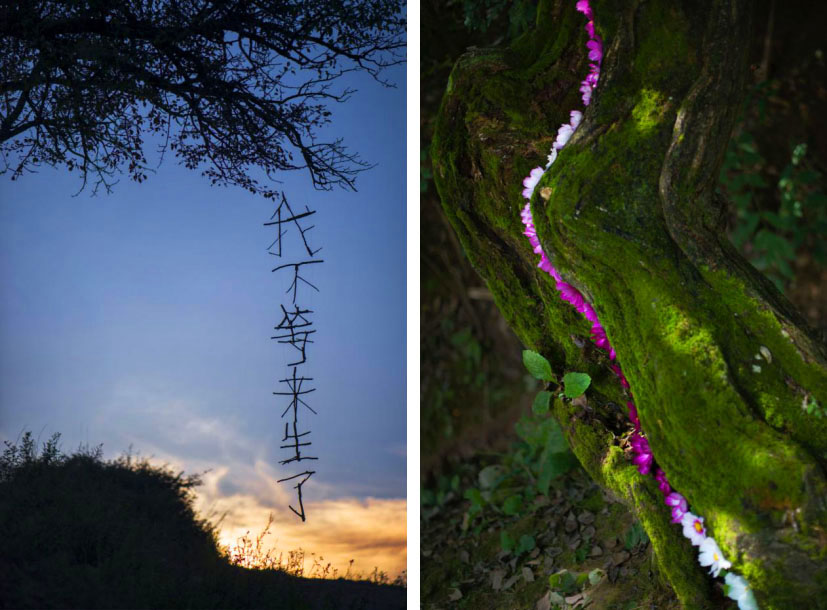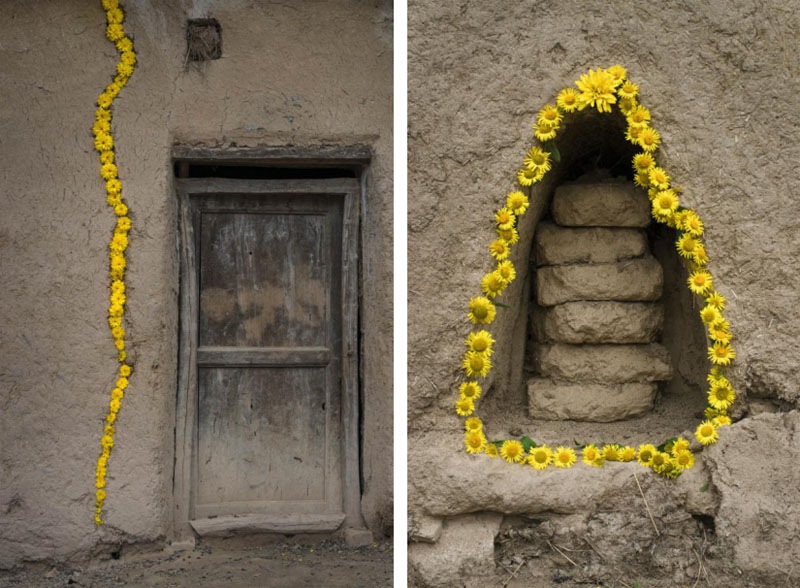 Wen Fang's work